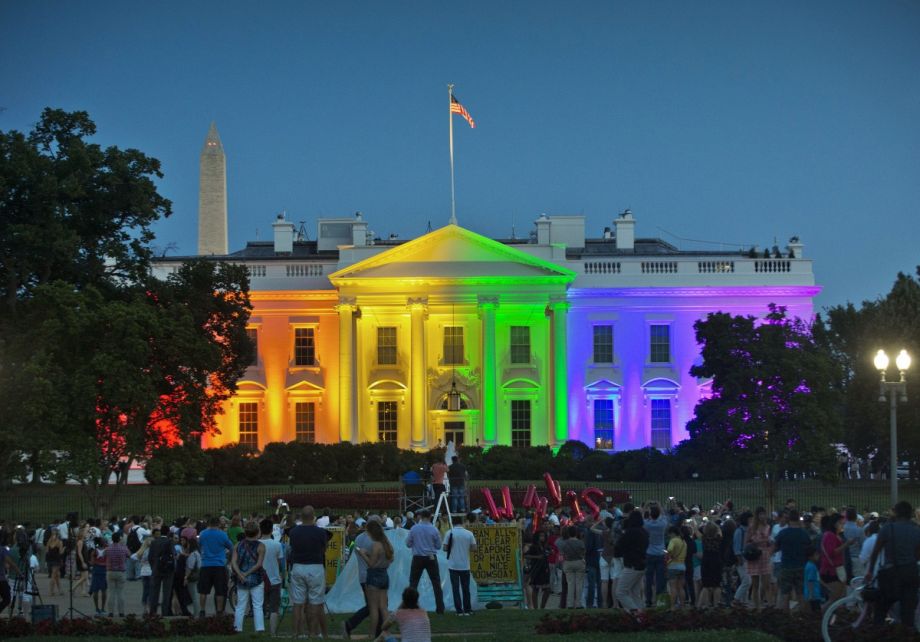 The White House was illuminated Friday with rainbow colors to mark the Supreme Court's ruling to legalize same-sex marriage in the U.S. (AP Photo/Pablo Martinez Monsivais)
On Friday, after a momentous Supreme Court ruling that legalized gay marriage nationwide in the U.S., the White House was bathed in rainbow-colored lights.
But even before the Court announced it would render its decision in that case, many U.S. cities were well on their way to displaying symbols of gay pride. Philadelphia, Seattle and Key West, Florida, are the latest to paint their streets in rainbow hues to show support for the LGBTQ community.
Gay pride organization Philly Pride Presents announced last March that some crosswalks would be painted permanently in the city's "Gayborhood" area. On Friday, the rainbow stripes premiered on four pedestrian crosswalks, forming a square, reported Philadelphia magazine.
They're here! Check out our rainbow crosswalk pictures here: http://t.co/VOQPPWjfvg pic.twitter.com/Rt4hLPIuzu

— G Philly (@G_Philly) June 25, 2015
Last week Seattle also unveiled 11 new rainbow crosswalks in its Capitol Hill neighborhood. The city plans to maintain them long-term. And earlier this month, similar stripes hit the streets of Key West, Florida.
Excellent addition to Capitol Hill today. I love how they sparkle. @MayorEdMurray @seattledot http://t.co/7BMpbY7U2H

— Kate Becker (@downtownkate) June 24, 2015
It's been about one year since Toronto catapulted the colorful idea as part of World Pride, and areas of San Francisco got more colorful last fall as well. In Austin, the city council OK'd a plan to paint some crosswalks, but some community pushback put the project into limbo.
"We know that other cities have installed rainbow crosswalks, and we have been trying to do the same in Philadelphia for a long time," Philly Pride Presents Executive Director Franny Price told the Philadelphia Gay News in March. "It will add a little bounce to our steps as we walk the streets in the Gayborhood."