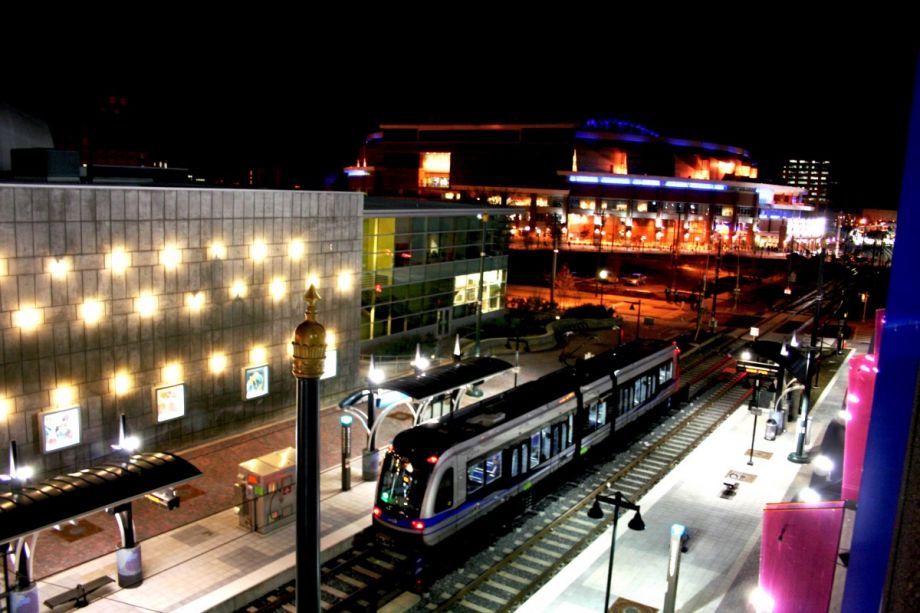 The Gold Line streetcar will soon join Charlotte's public transit mix, which already includes the light-rail Blue Line. (Photo by Justin Ruckman)
Last week, Charlotte's City Council OK'd $7.7 million for streetcar expansion work. The first 1.5-mile stretch of the new CityLynx Gold Line is supposed to open next month, and the eventual goal for the system is 10 miles.
To help boost the chances that the streetcar will be linked to successful economic development, today the John S. and James L. Knight Foundation announced that it is investing $1.5 million to support a business improvement initiative along the Gold Line corridor.
"The Gold Line streetcar will create a physical link between Charlotte's diverse neighborhoods and the city center. The business improvement initiative can leverage this power to connect to make Charlotte more successful," said Susan Patterson, Charlotte's program director of the Knight Foundation, in a press release. "By igniting small businesses and diverse ideas it will help ignite economic growth in the corridor, create spaces where diverse groups people can come together and encourage young talent to live and stay in the city." (Next City has received funding support from Knight.)
The Knight money will help with implementing ideas already outlined in Charlotte's Center City 2020 Vision Plan and the Urban Land Institute's Corridor report.
Charlotte isn't the only city betting on a streetcar to help with economic development. Last month, Next City contributor Sandy Smith reported in "Will Kansas City's Streetcar Be a Connector or a Divider?" that while a forthcoming line has already attracted millions in investment, many in K.C.'s East Side neighborhood, where blight and poverty are persistent, thought that "the proposal delivered too little benefit to the East Side for the taxes involved."
Similarly in Atlanta, many were unhappy at the building of a 2.7-mile, $98 million streetcar line, saying that it wasn't practical. Supporters of that streetcar, which opened last December, say it's less about transportation and more about community development.
Many see streetcars as a sign of gentrification, and worry that their introduction will soon mean displacement for low-income residents. But Charlotte Mayor Dan Clodfelter seems optimistic, and agrees that the streetcar isn't really just about transportation.
"The streetcar will shorten the real and perceived distance between Johnson C. Smith University and Uptown," said Clodfelter. "We believe these investments, market conditions and the streetcar strengthen and attract additional investment. The time to activate plans for the area is now."